"Dear Mr and Mrs DowntownUptown.
MERCI VIEL MAL. Love, love, love the shoes.Great service! "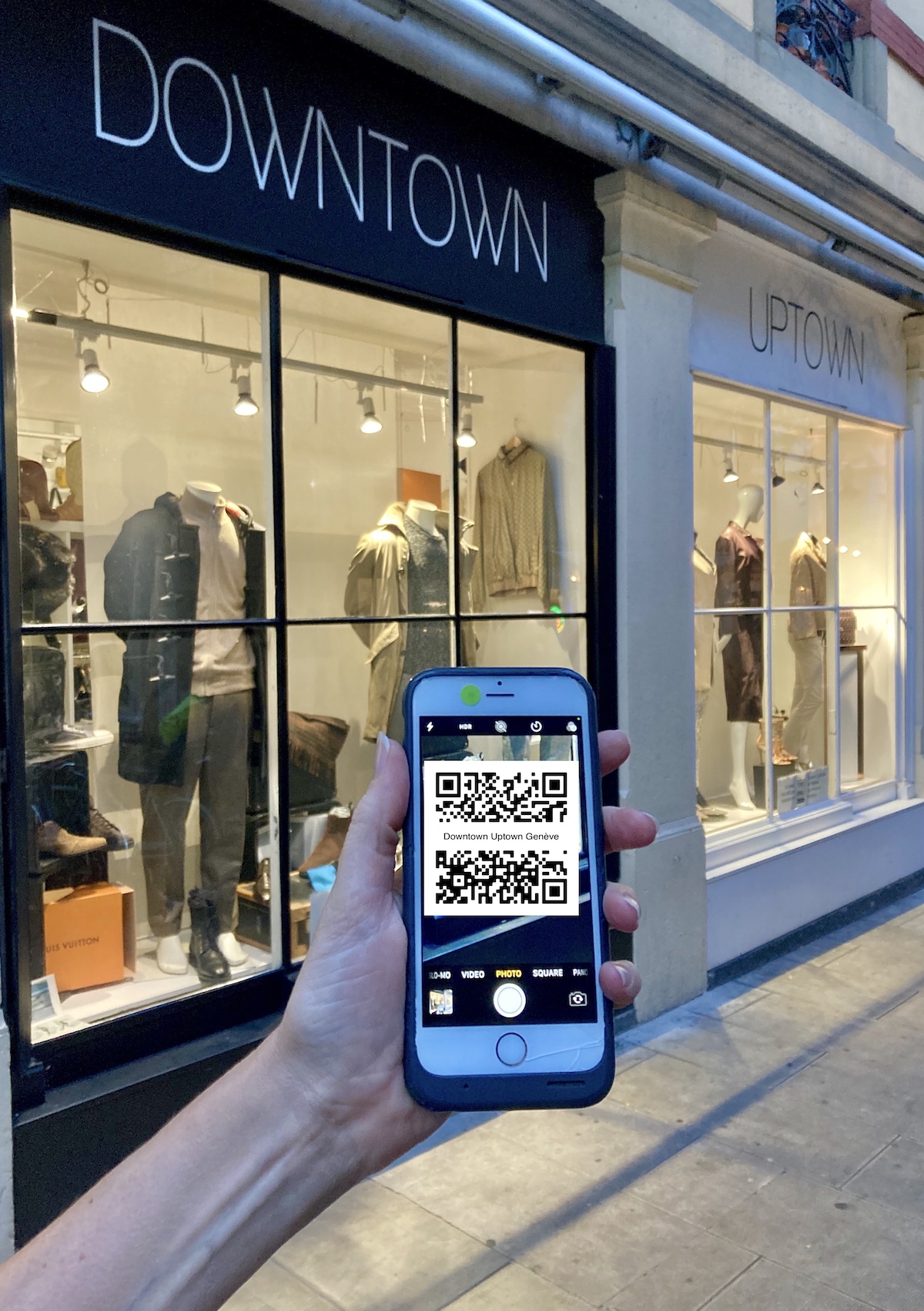 Our hybrid space: QR code enabled, Augmented Reality, e-commerce boutique & online syncing with local & international partners.
DTUT is DOWNTOWN attitude with UPTOWN style!
Innovation for us, is the disruption of fast consumption & augmenting a customer's satisfaction and pleasure to find THE pre-loved luxury treasure to keep or pass on, over lifetimes.
Co-founders Giji & Christophe established this hybrid physical & online space in 2014, that consigns, re-sells, recycles, repairs & upcycles authenticated CURATED luxury items AND offers a range of new ethical, circular & eco-fashion. A tailor-made service that until then, didn't exist in Geneva.
We also designed a bespoke RaaS (resale as a service) online and sync system with both local and international partners, so we can sell through multi-channels (auction houses, collectors, brand archives, B2B2C platforms), up to 50 million customers.
With experience in the luxury industry and responsible business, we have worked with Christie's, Sotheby's and Aeschbach 1904 & currently partner with Reflaunt and My Private Boutique.
Shop a curated select range of over 3'000 items online – new arrivals every day here: https://www.downtownuptowngeneve.com/shop/, or come visit the boutique, where we have a rotating stock of over 4'000 items! – don't forget to ask for our items from the stock room 😉 
We also host & feature new designer ethical and sustainable fashion brands each 6 months in the boutique. See our latest (and previous brands) here: www.downtownuptowngeneve.com/ethical-fashion/
"UPTOWN" for women focuses on chic style for day, evening and weekend wear, as well as an extensive range of shoes, bags & accessories. We also have a selection of evening dress rentals and a range of vintage designer clothes and accessories.
We post new arrivals to the boutique/website and events on UPTOWN Geneve instastories or UPTOWN Geneve facebookstories which you can follow for updates. Don't hesitate to ask what we have as we have many pieces in a separate stock and our Hermès, Chanel and high value items are by appointment in Uptown Genève Privé.
"UPTOWN Genève Privé" is a private salon by appointment (click on the appointment buttons for these items), where you can view and buy our higher-end items, such as Hermès Birkin & Kelly bags, Chanel bags and clothes, and other haute couture; métiers d'art or collector items from Louis Vuitton, Bottega Veneta, Valentino & Gucci. You can also see and buy them online here:
www.downtownuptowngeneve.com/product-tag/uptown-prive/
Casual chic
Marisol in Jimmy Choo, Max Mara, YSL & Dior
Men's style
Angelo in Hermès, Givenchy, Balmain
"DOWNTOWN" for men, has high quality second-hand clothes, shoes, bags & accessories. Street style, casual work or weekend – we have you covered!
We can also source through our Swiss network, a range of vintage luxury watches – a hobby of Christophe.
We post new arrivals to the boutique/website and events on DOWNTOWN Geneve instagram or DOWNTOWN Geneve facebook which you can follow for updates on men's items.
Absolutely one of my favourite boutiques in Geneva and the team are experts at what they do. I'm always confident in the provenance of the articles sold and have so much fun with Giji and Christophe, finding out what treasures they have in the store and listening to their expertise. A fun (and sustainable!) shopping experience.
"I had trust issues before about purchasing online, but with UPTOWN there are absolutely no worries at all! I just simply love my LV bag…"
Christophe Obradovic
COO (Co-owner, Co-founder)
Christophe founded DOWNTOWN UPTOWN with Giji in 2014.
Christophe directs the boutique. With an experience of over 25 years in the sale of luxury items in Switzerland, both in Geneva and Zurich (at the luxury houses of Hermès, Gucci, Burberry, Smalto), Christophe is the chief front-man to welcome everyone and is there to answer your needs to make the perfect purchase!
He has a love for all things second-hand style, is part of our in-house authentication team and also is passionate about vintage watches and can source special pieces for you on request.
Giji Gya
(Co-owner, Co-founder)
Director, Sapere Aude Associates
Giji founded DOWNTOWN UPTOWN with Christophe in 2014.
Giji has worn, bought and sold second-hand clothes for 35 years! She also has over 25 years experience in ESG, CSR including work on counter-labour exploitation and with FairWear. 
Giji is our in-house expert on luxury authentication with over 9 years of expertise, including authentication for Sotheby's in 2020 and 2021. She remotely directs DOWNTOWN UPTOWN's e-commerce, RaaS systems, partnerships, ethical designers, environmental social responsibility, supply chains and authentication.
She also directs Sapere Aude Associates, a consulting group on business and human rights, human security, ESG & CSR.
She holds a Bachelor of Public Policy & Management & International Relations (University of Melbourne), a Masters in International Development & Business (RMIT), completed the Sustainable Fashion course with Kering & the London College of Fashion (UA) and recently gained Executive Certifications in finance and scale-ups from the IE Business School in Madrid.
She has 20 years experience in directing & growing organisations internationally. 
Emma Philo
Product Assistant 
Emma is a vintage enthusiast and e-commerce expert. She manages our online bits n pieces.
Ben Kilian
Data & PR Manager
All things data, Ben organises our important syncs with our partners. He also manages our social media presence.
Harry
Website, IT 
Harry is our web guru – looking after our website & full-stack.
Andy
Repairs and authentication
Andy has many years experience in luxury bag repair with major luxury houses and repairs our bags in house and also triple authenticates when we have a case of possible super fakes. Nothing gets past us 😉
Raj, Emma J & teams
 Content
These fab people sort out our shipping, photo & item content. 
Vic Bradley
Roaming Ambassador
With a background in Arts (University of Nottingham) and an eclectic career spanning work at Vogue UK, negotiations, sustainable fuels and ethical fashion (at the Tallis). Super mum of 2 kids and all round doer!
Vic is our international representative and our UK contact.
Thanks guys!
"I've purchased two handbags from UPTOWN on two separate visits to Geneva and could not be more pleased. Christophe and Giji are an absolute pleasure and only sell high-quality pieces. Their emphasis on social responsibility and the trustworthy atmosphere in the shop make UPTOWN one of my favorite consignment boutiques to patronize. I highly recommend this shop!"