"Dear Mr and Mrs DowntownUptown.
MERCI VIEL MAL. Love, love, love the shoes.
Great service! "
"I've purchased two handbags from UPTOWN on two separate visits to Geneva and could not be more pleased. Christophe and Giji are an absolute pleasure and only sell high-quality pieces. Their emphasis on social responsibility and the trustworthy atmosphere in the shop make UPTOWN one of my favorite consignment boutiques to patronize. I highly recommend this shop!"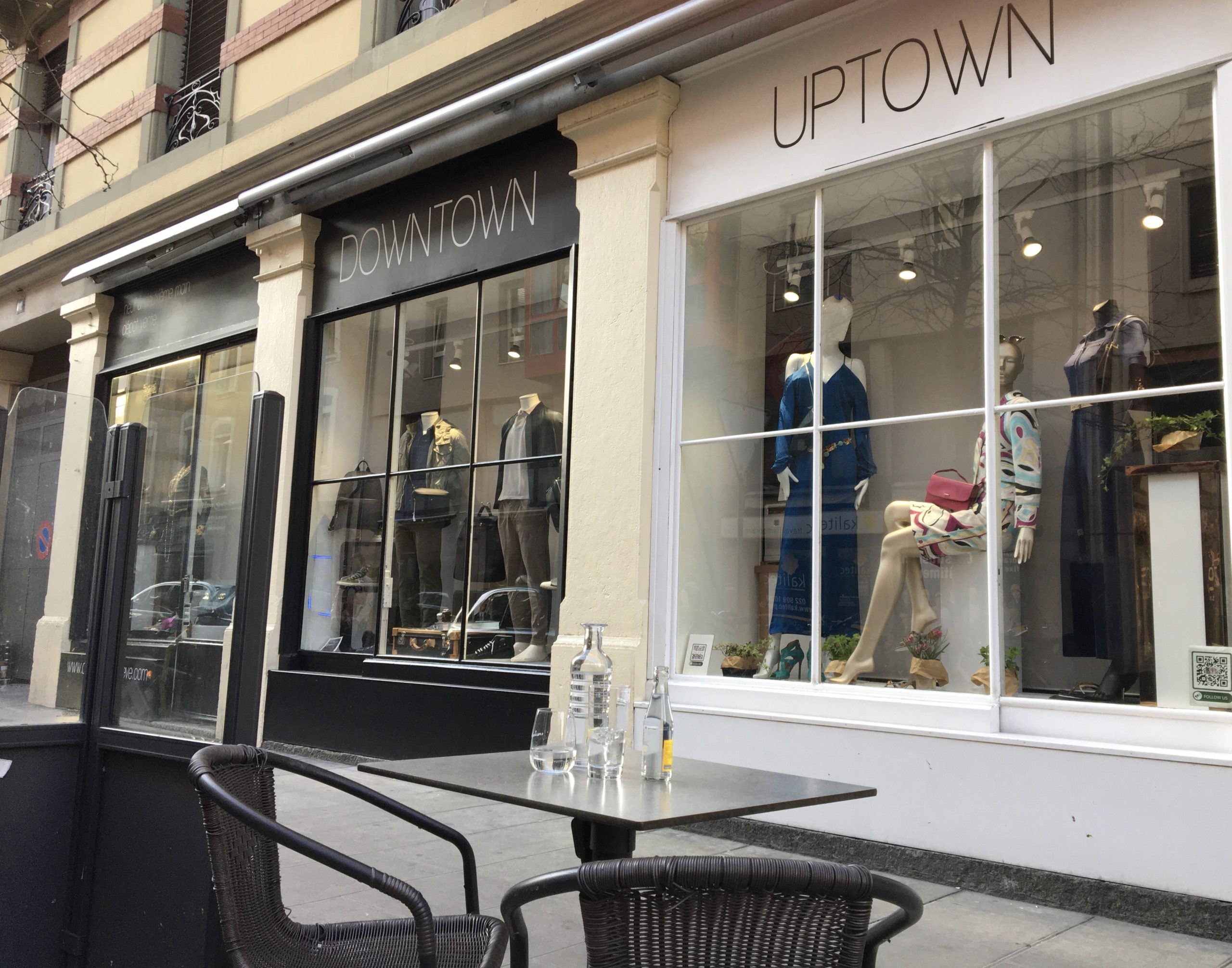 Enjoy an apéro on our terrace!
"DOWNTOWN UPTOWN Genève", is the ONLY physical boutique in Switzerland that combines high-end luxury consignment (authenticated "pre-loved" second-hand) & new socially responsible designer fashion, established in Geneva in January 2014. We have had a shop online since 2015 – the first in Geneva and one of the first in Switzerland! We ship worldwide.
Our team (see below – we are not anonymous nor ghost non-existant "experts" like most online second-hand platforms claim to have!) has a cumulative 60 years of experience in the luxury and second hand industry and authenticate in person all our items in the boutique. We know the international second-hand market extremely well, since before the COVID boom in re-sale. So come to the professionals!
Casual chic
Marisol in Jimmy Choo, Max Mara, YSL & Dior
Women's style
Izabel in Etro, Lanvin & YSL
"UPTOWN" for women focuses on chic style for day, evening and weekend wear, as well as an extensive range of shoes, bags & accessories. We also have a selection of evening dress rentals and a range of vintage designer clothes and accessories.
We post new arrivals to the boutique/website and events on UPTOWN Geneve instastories or UPTOWN Geneve facebookstories which you can follow for updates. Don't hesitate to ask what we have as we have many pieces in a separate stock and our Hermès, Chanel and high value items are by appointment in Uptown Genève Privé.
"UPTOWN Genève Privé" is a private salon by appointment (call +41 78 635 6447), where you can view and buy our higher-end items, such as Hermès Birkin & Kelly bags, Chanel bags and clothes, and other haute couture; métiers d'art or collector items from Louis Vuitton, Bottega Veneta, Valentino & Gucci. You can also see and buy them online here:
www.downtownuptowngeneve.com/product-tag/uptown-prive/
"DOWNTOWN" for men, has high quality second-hand clothes, shoes, bags & accessories. Street style, suits or weekend – we have you covered!
We can also source through our Swiss network, a range of vintage luxury watches – a hobby of Christophe.
We post new arrivals to the boutique/website and events on DOWNTOWN Geneve instagram or DOWNTOWN Geneve facebook which you can follow for updates on men's items.
Men's style
Angelo in Hermès, Givenchy, Balmain
Absolutely one of my favourite boutiques in Geneva and the team are experts at what they do. I'm always confident in the provenance of the articles sold and have so much fun with Giji and Christophe, finding out what treasures they have in the store and listening to their expertise. A fun (and sustainable!) shopping experience.
"I had trust issues before about purchasing online, but with UPTOWN there are absolutely no worries at all! I just simply love my LV bag…"
We are not about quick profit. We are about authenticity, quality and style. 
Since 2014, "DOWNTOWN UPTOWN" had offered a range of fashion that promotes better buying, social responsibility and protection of the environment. In addition, to give a second life to your clothes and to convey a message:
To be more responsible and involved in our consumerism. 
We also pay attention to all matters relating to minimising consumerism, in this regard, we strive to minimise our impact and to promote good practices (waste sorting, recycling, fair trade and non-exploitation – fair conditions in clothing & shoe manufacturing).
If you visit our store in rue de Monthoux, or online and make a purchase, you will automatically be contributing to recycling or ethical consumerism  … we do all the hard work in sourcing, verifying and authenticating – so that you can buy responsibly without effort. We have done this for 7 years and we didn't just jump on the "sustainable" bandwagon, as many have in 2020.
Each year, we engage in ethical and socially responsible platforms and buyer meetings to source new stock for the boutique. Our team has many years experience in human rights monitoring and research, including in labour supply chains. We also attend the annual UN forum on business and human rights, to provide a small business perspective to the meetings.
With our consignment items, our team has many years of authentication experience and we choose only the best quality luxury brands (in excellent or mint condition), or unusual vintage items to offer to you.
See below for more info on our team with years of experience in the fashion, ethical & second-hand industries.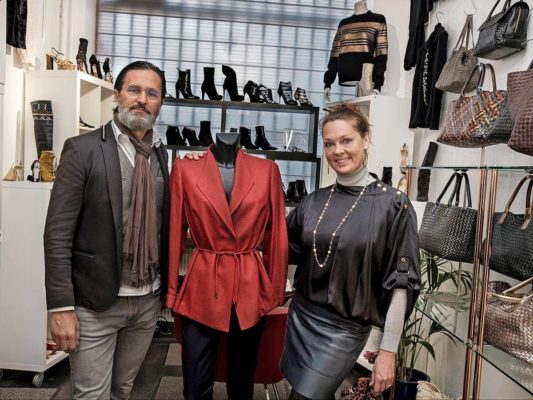 Giji Gya-Obradovic
CEO (Co-owner, Co-founder & Director "UPTOWN")
Giji directs "UPTOWN". She has over 20 years experience in human security and including work on counter-labour exploitation and with FairWear. She manages DOWNTOWN UPTOWN's consignment systems, ethical designers, social responsibility, supply chains and authentication.
She holds a Bachelor of Public Policy & Management & International Relations (University of Melbourne) and a Masters in International Development & Business (RMIT) and Sustainable Fashion course with Kering & the London College of Fashion (UA). She is forever updating her knowledge and is currently undertaking Executive Courses for entrepreneurs at the IE Business School in Madrid and online. She has 25 years experience in running organisations internationally. 
Giji is our in-house expert on luxury authentication with over 7 years of expertise, including authentication for Sotheby's.
Christophe Obradovic
COO (Co-owner, Co-founder & Director "DOWNTOWN")
Christophe directs "DOWNTOWN". With an experience of over 25 years in the sale of luxury items in Switzerland, both in Geneva and Zurich (Gucci, Burberry, Smalto, Hermès), Christophe is the chief front-man of the boutique to welcome everyone and is there to answer your needs to make the perfect purchase!
He also is passionate about vintage watches and can source special pieces for you on request.
As with every business, we cannot run without our behind the scenes crew:
Nico Obradovic
CSO (Chief stock & shipping manager)
Nico manages our ever-growing stock! He takes scrupulous care of our items both in store and online. He also takes care of all our shipping needs. He has an extensive 15 year background in stock management & sales with major luxury houses in Geneva.
Andy
Repairs and authentication
Andy has many years experience in luxury bag repair with major luxury houses and repairs our bags in house and also triple authenticates when we have a case of possible super fakes. Nothing gets past us 😉
Harry & Martin
Website, IT & Publicity
Harry is our web guru – looking after our website and computer needs.
Martin runs our publicity.
Thanks guys!